Trip Advisor
Traveler's Choice Award
2020
Destination
Culture Trip
Best Hotels in Myanmar
2017
Trip Advisor
Certificate of Excellence
2018
Trip Advisor
Certificate of Excellence
2019
Kayah State tribes
In area, Kayah State is the smallest state in Myanmar, yet has the highest ethnic diversity and is therefore one of the most interesting destinations to visit anywhere in Asia. Apart from the Kayah, Kayaw and Kayan tribes — and a sub-group of the Lisu called 'Khi' — various ethnic peoples such as Geba, Manu-Manaw (Kawyaw), Yintale, Pa-O, Intha and Shan have also settled in Kayah State.
Closed for over half a century, Kayah State opened to foreign visitors in 2012, and is accessible by air (50 minutes' flying time from Yangon to Loikaw, the capital of Kayah State) and road, or through an adventurous combination of air travel via Heho, boat across Inle lake, and finally by road from Phekon to Loikaw. This is home to ancient arts, cultures, and traditions immune, for millennia, to outside influences. Kayah State is truly a land suspended between the days.
The Kayah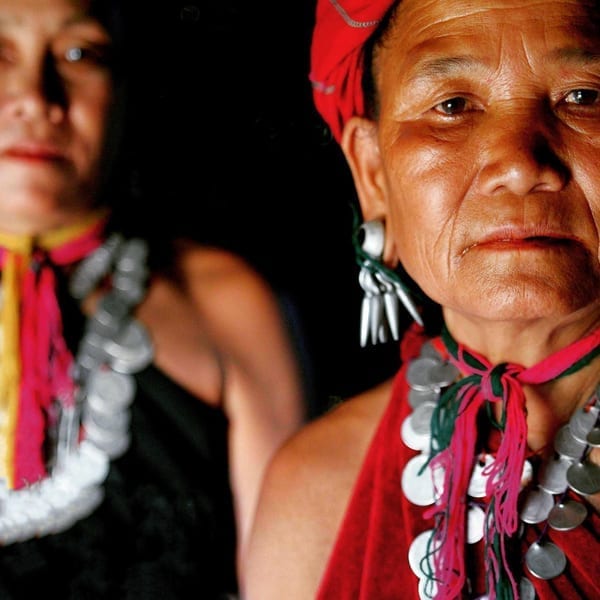 Kayah State, also known as Karenni State, is named after the largest ethnic group in the region: the Kayah. In his article 'Among the Hill Tribes of Burma – An Ethnological Thicket', published in National Geographic Magazine in 1922, British Commissioner and explorer Sir George Scott described the traditional attire of Kayah women in detail:
"The women wear a short skirt which comes as far as the knee. Usually it is dark-colored, but occasionally it is red. A broad piece of black cloth passes over the back across the right shoulder, and is then draped over the bosom, and confined at the waist by a white girdle, knotted in front, sash-fashion with flowing ends hanging down with more or less grace, according to the length of time it has been worn. Round the waist and neck are ropes of barbaric beads, to which the wealthy occasionally add long necklaces of rupees. A profusion of the beads also decorates the leg just above the calf, which is circled by a solid mass of garters of black cord or rattan."
The leg rings are actually made mostly of lacquered cotton threads these days. In the Kayah villages that are accessible from Loikaw, many older Kayah women are still producing leg rings, and continue to wear most of the elements described here, that are characteristic of the traditional Kayah female attire. Their appearance creates a lasting impression when seen in-person.
We arrange personal and guided visits for individuals and select groups to specific Kayah villages, to appreciate first-hand many aspects of tribal life and customs.
The Kayaw
Little is known about the Kayaw, also known as 'Bre Karen', a tribal ethnic group that also wears neck, leg, and ankle rings made out of an amalgamation of metals. Other than the Kayan, where older women still wear neck and calf rings as status symbols, the Kayaw too have preserved their tribal culture and traditions, best observed when visiting their villages, where young daughters, mothers, and grandmothers habitually dress in full traditional clothing, whether at home, in the fields, or during harvest celebrations.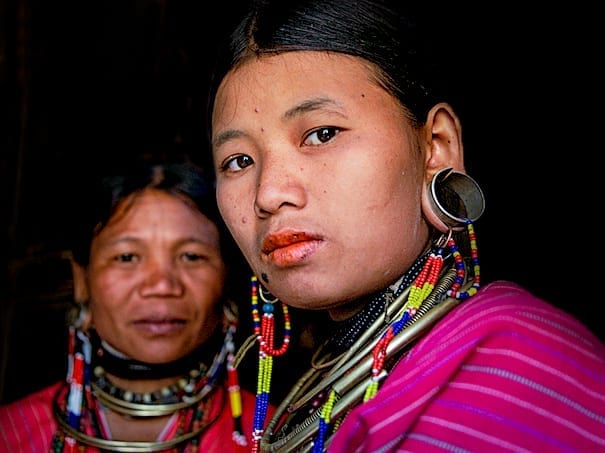 The hallmark of the Kayaw's traditional female attire is a red tunic with white vertical stripes, a short skirt cloth with fewer vertical stripes, a necklace with two large crescent-shaped silver plates hanging in front of the chest, few large bronze rings around the neck, and bronze coils wrapped around the calf. These items are set off by necklaces made of yellow, blue, red, and white beads. Large silver earplugs, approximately 3.8cm in diameter and 2.5cm in height, are worn as ear ornaments. The end-result is a striking ensemble of Kayaw attire not seen anywhere else in the world.
We arrange personal and guided visits for individuals and select groups to the Kayaw village of Htay Kho, to appreciate first-hand many aspects of tribal life and customs.
The Kayan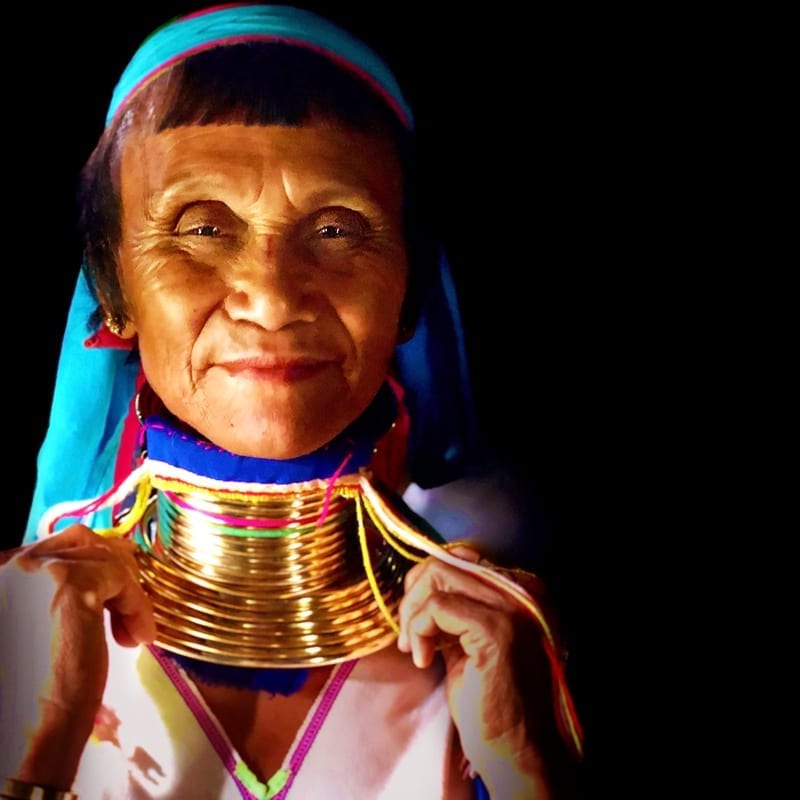 The Kayan, also known as 'Padaung', a minority Karen group that fled to the north of Thailand during periods of armed conflict in this part of Myanmar, is perhaps the most iconic of the tribal groups in Kayah State. Many Kayan families are in the process of immigrating to the lands of their origin, in the Western mountainous region.
The Kayan women, nicknamed the 'Giraffe Women' for their prolonged necks, stretched by wearing bronze rings that are added over the years from childhood onwards, are not the only ethnic Karen group using bronze rings as body adornments. Kayaw women wear them as well, though more loosely, in the fashion of necklaces. Both Kayan and Kayaw women wear brass coils around their upper and lower calves.
We arrange personal and guided visits for individuals and select groups to the Kayan village cluster of Pan Phet, to appreciate first-hand many aspects of tribal life and customs.
Guided visits
Loikaw Lodge has strong bonds with local tribes and guides, and a responsibility to ensure that visits to tribal and protected areas are conducted with sensitivity and respect for the host communities.
We arrange customised and special-interest tours for professional and semi-professional photographers, filmmakers, and individuals interested in appreciating the ethnography of this fragile region.
Sustainable hospitality
Kayah State is lush and peaceful. This was not the case a few decades ago when the country was at the mercy of armed conflict. Loikaw Lodge by the Lake was built on a vision that today serves as a role model for similar projects in modern-day Myanmar: sustainable hospitality, guided by principles and genuine practices that respect natural and social environments, and create long-lasting benefits for local communities.
Loikaw Lodge by the Lake committed to, and successfully achieved, these protocols alongside international service standards:
Building & energy use
Maximised supply of regionally produced building material from local suppliers
Labour comprised 80% of local workers from Kayah State, mainly in low-income areas
100% of water from self-maintained wells linked to cleaner groundwater and lakes
Building blends easily into the natural landscape and with the township quarter
Low-energy LED lighting (3 – 7 watts) installed in all rooms and public areas
No TVs and minibars in rooms to maintain green marks (many books in each room)
Food & waste management
Source vegetables, fruits, meats, and other ingredients from reliable local producers
Many of our ingredients are grown onsite in our own herbs and vegetable gardens
Our chef has been internationally trained in food preparation, safety, and hygiene
Strict ban enforced on the consumption or exploitation of wild and exotic animals
No plastic bottles; water is served in glass jars for restaurant and resident guests
Team conducts lakeside clean-ups on Fridays to help limited public services
Employees sort and sell materials to recycling centres for extra income
Local & community jobs
10 out 12 jobs at Loikaw Lodge are for people from within the local community
Increased employee wages after 3 months, with housing, meal, and travel benefits
Monthly and annual hospitality training, re-training, and skills enhancement schemes
Additional support for any hospitalisation, emergencies, and employees with children
Interest-free micro-financing and small loans for employees and their immediate families
Monthly donations to a Christian orphanage for HIV-positive children from the town
Consistently and actively support Community Based Tourism (CBT) in the region
Work only with local guides who have been actively trained in CBT programmes
Partner with local guides who speak tribal languages, i.e. Kayan, Kayah, or Kayaw
Loikaw township
Loikaw is the capital of Kayah State, the smallest of the states and administrative zones in Myanmar.
The town
What sounds like a capital city is in fact a gorgeous little town, characterised by a distinctly rural flavour, stretching along the Belu (Pilu) River. Approximately 300,000 people live in Kayah State, half of whom reside in the township. Life here moves at a leisurely pace, as it always has, making Loikaw the perfect place to absorb its rich sites, sights, and experiences, and fully enjoy your time in the land between the days.
The sites
Loikaw is dotted with pagodas on rocks. 'Taung Kwe Paya', or Split Mountain Pagoda, is perhaps the most famous and is frequently visited by locals and foreigners. There is also a cathedral and many smaller churches that serve Loikaw's Christian community. Several sites of worship are scattered around town, ranging from a mosque and a Hindu temple, to little shrines on stilts built to please the spirits of this ancient land.
The sights
A bike ride or stroll around Loikaw takes you past bakeries, cafés, and artisanal outlets where you'll meet sausage makers, vintners, paper gatherers, and craftspeople. Whether you're up for a morning chat with a friendly vegetable seller, or just want to curl up with a book in the town park, Loikaw has that perfect spot. Loikaw Lodge also arranges visits with local guides by car, or on the back of a bicycle.
Sites of worship
Loikaw is characterised by golden pagodas on rocks, towering over the town, and for its multifaith community.
Multifaith communities
The town is an archdiocese with a cathedral and a Bishop. A picturesque mosque stands on the riverbank, close to the center of town. A smaller site for Hindu worshippers is within walking distance of Naung Yah Lake, close to the night market. Religious harmony is prevalent throughout Loikaw and Kayah State, with worshippers free to practice in peace and safety. Visitors are requested to remove footwear before entering these sites.
Spirit worship
Of interest are the sites of spirit worship, the 'Kae Toe Bu'. Characterised by totem poles, typically several in one location, the sites are testimony to the animist practices that have been kept alive by the different Karen tribes over the centuries. There are various 'Kae Toe Bu' within Loikaw Township that are still active, where chickens and pigs are offered to the spirits during harvest festivals and other special occasions.
Local festivals
April is a good month to visit Loikaw and its surrounding villages where many festivals are celebrated over the period. Throughout the city one can also spot smaller spirit shrines, mostly under Banyan trees, but also free-standing at spots that are believed to house spirits. These shrines contain either Buddha statues or figurines of one of the 37 'nats' — spirits to which local Buddhists in Myanmar pay their respects.
Dining experiences
Our dining philosophy is simple: always serve market-fresh food, homemade, healthy, and without preservatives.
Breakfast
We take pains and pride in serving you a rich breakfast of homemade bread or pancakes, your choice of eggs — with or without bacon — roasted tomatoes, and fresh fruits. Our Loikaw Lodge jam, made entirely in-house from the freshest local strawberries, is the perfect companion for hot toast with butter. We also offer gluten-free breakfast options, on request. Service is a la carte, and your meal is always brought to your table.
Market freshness
Our staff go the the market almost every day for seasonal fruits and vegetables from local bio-farmers that support ecologically sound farming. We are happy to have eager guests accompany us to the markets to experience some very unique fruits and vegetables such as edible flowers that are cooked and made into salad. Quality meats are harder to come by in Loikaw and most of our beef, poultry, and fish come from Yangon. We serve a wide range of international and Mediterranean dishes, served with extra virgin olive oil, lime, and a pinch of salt. And our carbonara has earned high praise from guests, locally and those visiting us from overseas.
Chef & kitchen
Chef Tin Tun Aung has worked in leading luxury hotels and restaurants, in Myanmar and abroad. Before joining Loikaw Lodge, Chef Tin was Sous Chef at the renowned Governor's Residence, a 5-star boutique hotel in Yangon. Our kitchen's collective experience has produced some popular preparations, including our passion fruit soda and lemonade, lemon tarts, and brownies served with the best cappuccino, latte, flat white, and espresso. Loikaw Lodge is mindful about not competing with local restaurants for business, and therefore we do not serve traditional Kayah dishes. Instead, we encourage our guests to explore the local restaurant scene.
Local cuisine
The hallmark of local Loikaw cuisine is the famous Kayah pork sausage, spiced with Sichuan peppers, and often served with 'Kaun Je', a local wine brewed from rice or millet grains.
Wine & spices
Karen families take pride in producing their own Kaun Je, the traditional welcome drink for any visitor to Kayan, Kayah and Kayaw villages. The dominant spices in local dishes are chillies, and Sichuan peppers that grow in abundance in Kayah State. Traditional dishes thus tend to be on the spicy side and go down better with Kaun Je, which is similar to unfiltered sake.
Sichuan peppers
Sichuan peppers have a unique aroma and flavour that is neither hot like chillies, nor pungent like black pepper. Instead, these local peppers have a slight lemony overtone and create a tingly numbness on the tongue. Drief Sichuan peppercorns are often bottled and can be purchased from local retailers — a unique memento of Kayah State to savour back home.
Local dishes
Pumpkins, potatoes, water spinach, and edible tree leaves accompany local dishes of fish, chicken, and pork curries. For the more curious, cooked water snails in a spicy soup are a delicacy among locals. A must-try is the steamed rice cake, 'Hin Htoke', usually mixed together with chicken or pork, or just spring onions for a vegetarian option.
Meet the owners
Warmest greetings, from Swe Yi Myat and Jens Uwe Parkitny, a Myanmarese-German family with global experience in tourism, travel, and sustainable hospitality.
Swe Yi Myat & Jens Uwe Parkitny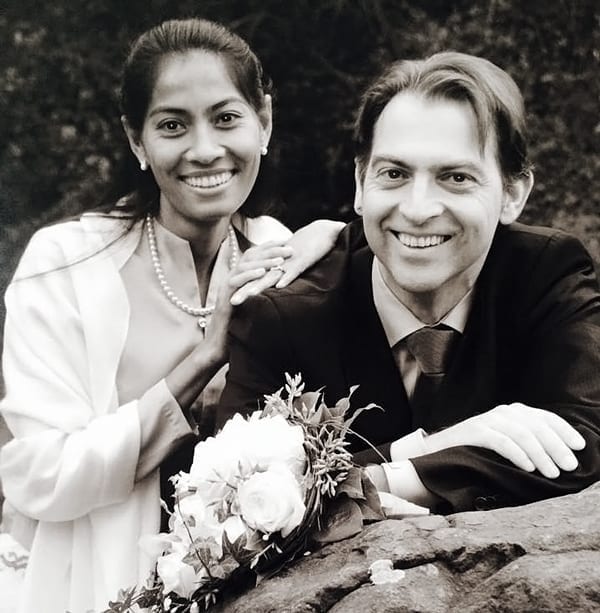 Swe Yi Myat
Swe Yi Myat, a native Myanmarese, founded 'Ancient Geographic Travels & Tours' in 2009 in Yangon. The travel agency specialises in bespoke tours across Myanmar, catering to local and international visitors. In 2014, Swe Yi, together with Jens, purchased a plot of land in Kayah State and construction began on Loikaw Lodge by the Lake, guided by a joint vision of sustainable hospitality that benefits visitors and the local community through responsible hospitality.
Loikaw Lodge by the Lake opened its doors in October 2016. Swe Yi has since focused her attention on designing unparalleled visitor experiences, directing the operations of Loikaw Lodge as a premier destination provider for global visitors. She is fluent in Burmese, English, and German, and manages guest experiences and agency relationships. Swe Yi was appointed as General Secretary of the Hotel Association of Kayah State, Myanmar, in 2019. She is married to Jens; they have two daugthers.
Jens Uwe Parkitny
Jens Uwe Parkitny is a journalist, published author, and internationally-acclaimed photographer of Myanmar's Chin Women. Jens is a founding member of Expedia Inc when it spun off from Microsoft in 1999, holding executive positions in Germany, Hong Kong, and Singapore for 15 years. He was also Vice President (Digital Marketing and Distribution) at Accor Asia-Pacific. In 2018 Jens was appointed CEO of Gourmet Plus, the first digital in-house start-up founded by Accor Asia-Pacific.
Jens has focused on documenting and sharing his passion for the traditions and practices of Myanmar's slowly vanishing tribes, through books, exhibitions, lectures, and guided field trips for lodge guests. His exhibitions have received international acclaim in Myanmar and across Europe. Together with Swe Yi, whom he married in 2007, Jens brings his extensive knowledge of hospitality and local traditions to every guest experience.